In order for remote execution commands to work against workgroup machines, the mgsRET$ share must be added to the domain distribution servers (DS) NullSessionShares list.
This can be achieved via three different methods:-
1. The DS's Local Security Policy tool: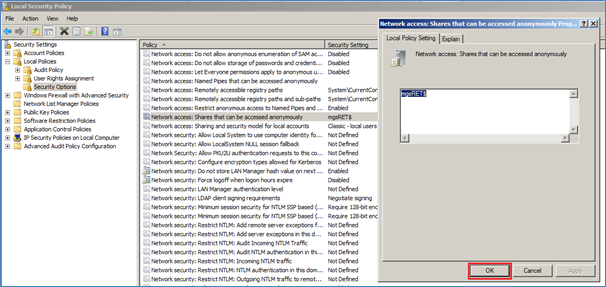 2. Directly manipulating the DS's registry:
Windows Registry Editor Version 5.00
[HKEY_LOCAL_MACHINE\SYSTEM\CurrentControlSet\services\LanmanServer\Parameters]
"NullSessionShares"=hex(7):6d,00,67,00,73,00,52,00,45,00,54,00,24,00,00,00,00,\
00
3. Via a domain GPO:

In order for files to be uploaded to a domain DS from a workgroup machine, the DS's reporting location needs to be configured with credentials.